Since the earliest days at Tines, our partners have been our closest allies in scaling the value of no-code automation to security teams at the world's best companies. The security landscape is becoming increasingly complex, and by collaborating with industry-leading organizations, we're able to generate more value and success for our shared customers.

By working with other like-minded and innovative software companies like Wiz, Recorded Future, and Elastic, we've been able to automate a diverse range of security workflows and connect systems and tools across our customers' tech stacks, reducing pressure on overwhelmed teams. Likewise, by collaborating with the leading cybersecurity advisors such as Guidepoint and Optiv, our customers can feel confident that they're choosing the best solution for their needs based on guidance from the most trusted industry experts. 

To ensure we expand and grow together, we're excited to announce the launch of our new Partner Portal, a single destination designed to provide partners with everything they need at each stage of their journey. 

The Tines Partner Portal provides a dedicated platform for partners to access commercial insights, marketing materials, and other educational resources to enable them to effectively support their customers and maximize their growth with Tines.
At Tines, we continually strive to improve our customer experience. That's why we're building a partner network comprised of the world's leading security organizations and enabling them to support our shared customers at every stage of their no-code automation journey. The Tines Partner Portal is the next phase of this evolution and ensures that our partners are equipped with the tools and resources they need to create value with Tines.

Charlie Ardagh, Head of Partnerships, Tines
As part of this launch, we're excited to announce our new suite of partner education offerings, providing people with access to training and certification that is tailored to their needs and enables them to become experts in no-code automation.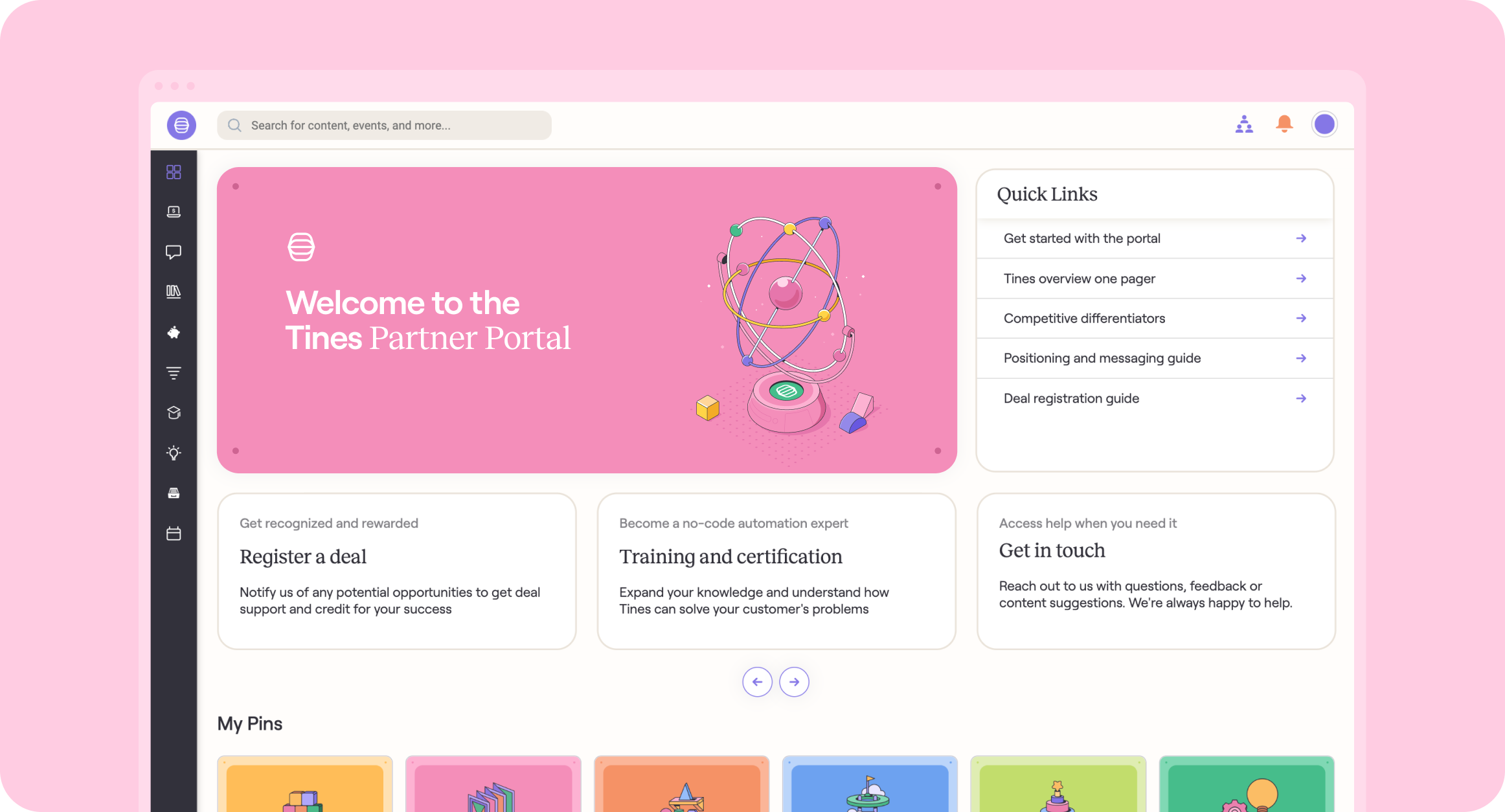 The Tines Partner Portal homepage
It's also now easier than ever for partners to get recognized and rewarded for their efforts with our new deal registration and pipeline management solutions, which are available directly within the portal. 
And we're just getting started. Over the coming months, we'll continually invest in building the solutions our partners need to deliver smarter outcomes at scale with Tines.
To access the new portal or learn more about how to become a Tines partner, visit tines.com/partnerships