From the subtle to the dramatic, at Tines, we're constantly shipping new features and updates to improve your overall experience of our automation platform. Since things move quickly around here, we've put together this round-up of some notable new enhancements aimed at helping your cybersecurity and operations teams save more time and effort. Some highlights to look out for include:
Dark mode

Annotations

Updating Action names

Smooth zoom and scroll

Convert cURL commands into Actions

Default parameters in Forms

Dark Mode 
One of our most requested features of all time is officially live. Dark mode is now available to all cloud tenants and is designed to offer a fresh look and feel that's easier on the eye with all the powerful functionality you're used to. Your Tines tenant will default to "auto" mode, which follows your system settings, or you can specify a preference in the user menu on the top left of your dashboard. Did we mention it's gorgeous? Give it a road test, and let us know what you think! 
‍Annotations 
Whether you're a Tines newbie or a power user, you'll know that many Stories often require additional context. As you build out more complex automation independently, you might need to track the micro-steps in your processes, justify your decisions, or share methods and important information with other team members.

Like in books and other platforms, annotations in Tines help you and your team navigate through more complicated workflows by acting as sticky notes. If you're already utilizing our Teams feature, it's worth noting annotations can be added by any user, whether it's to highlight something, include more details, or simply ask a question. These Storyboard notes can be used to provide a deeper understanding of your automated workflow than might be obtained from its Actions and Events alone.

We hope this update helps your team to share more valuable insights into your automation more readily.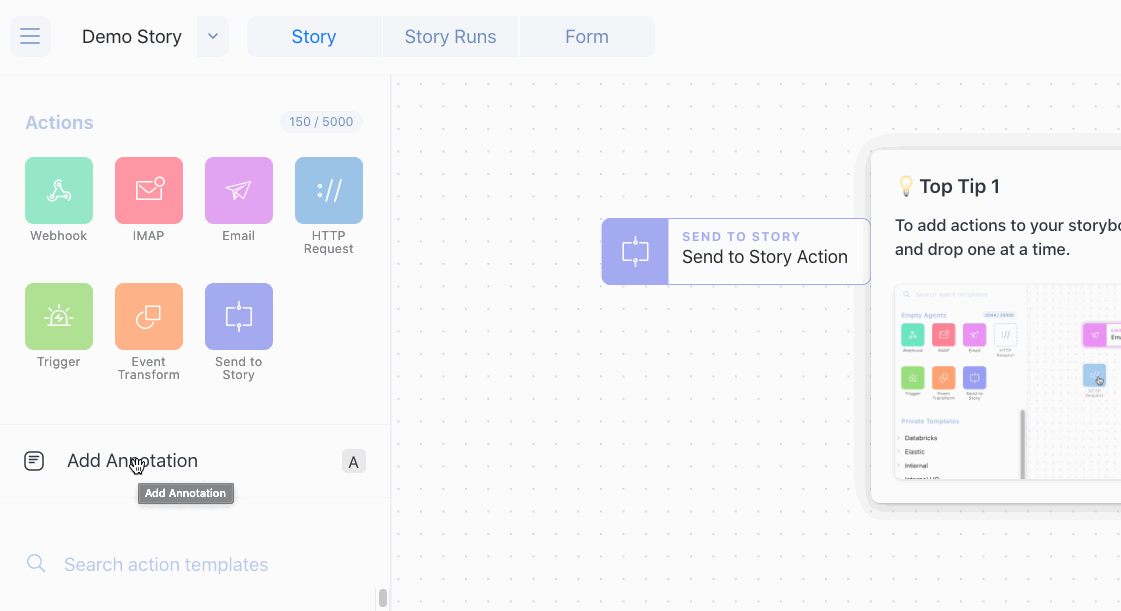 ‍

Updating Action Names 
Say goodbye to updating any references to an Action one by one. The Storyboard UI has been refreshed to enable more streamlined editing. Now, anytime you rename an Action, you will be prompted to update other references to that Action downstream rather than having to spend time updating them individually.
‍

Smoother Zooming and Scrolling 
A lot of work has gone into polishing the look and feel of the Storyboard. It's always nice to have slick zoom transitions since they can help bring the Storyboard to life. We hope you enjoy this beautiful little update that allows you to zoom in and out really smoothly. You can also copy and paste Actions or annotations at the position of your cursor.
cURL to HTTP Request Actions 
Our automation engineers have been patiently waiting for us to talk about this for some time. This Summer '21 update means you can now paste cURL commands to the Storyboard and you'll get a Tines Action created immediately.

This feature should make it much easier to use any documentation that features cURL and kickstart utilizing those API calls within Tines. There are a ton of variations of cURL commands and arguments out there, so please email hello@tines.io if you hit a corner case, and we'll do our best to get it implemented!
Default Parameters in Forms 
This update allows you to pass query parameters to a Form in the URL bar. You can also send links to Forms with specific pre-populated fields to save the recipient time or direct them a particular way. Tines can send emails to people with links to Forms where it has pre-populated certain fields based on the flow through a Story. Support for multiple options in the options field will be added in future releases.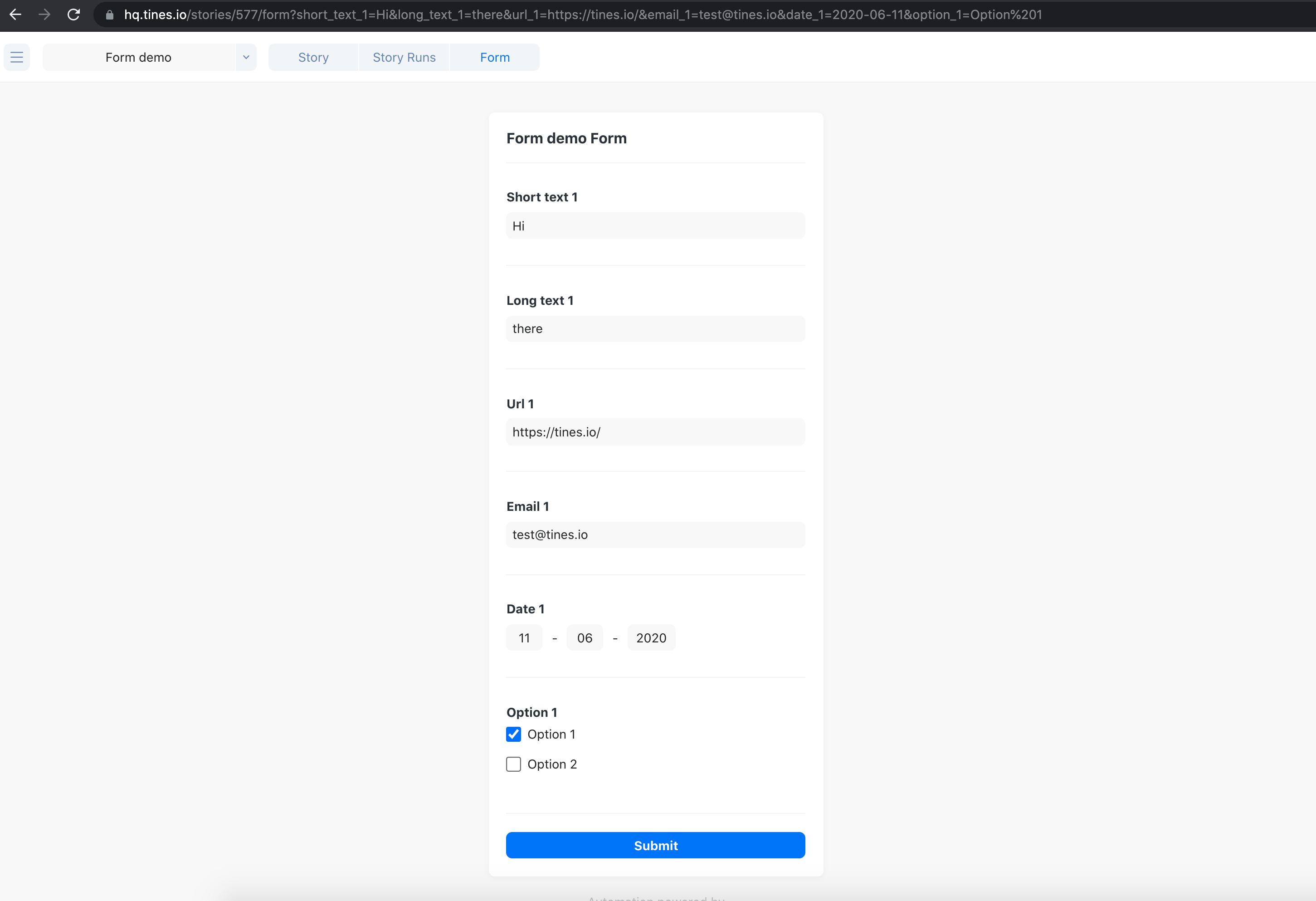 Stay Tuned 
Those are our picks for the most exciting updates, but let us know if there's another improvement that caught your eye!

To stay on top of all things Tines, subscribe to our newsletter or talk to your account manager to join early access or beta programs and get a first look at new features as they are being developed.

Interested in learning more about Tines? Sign up for free here.